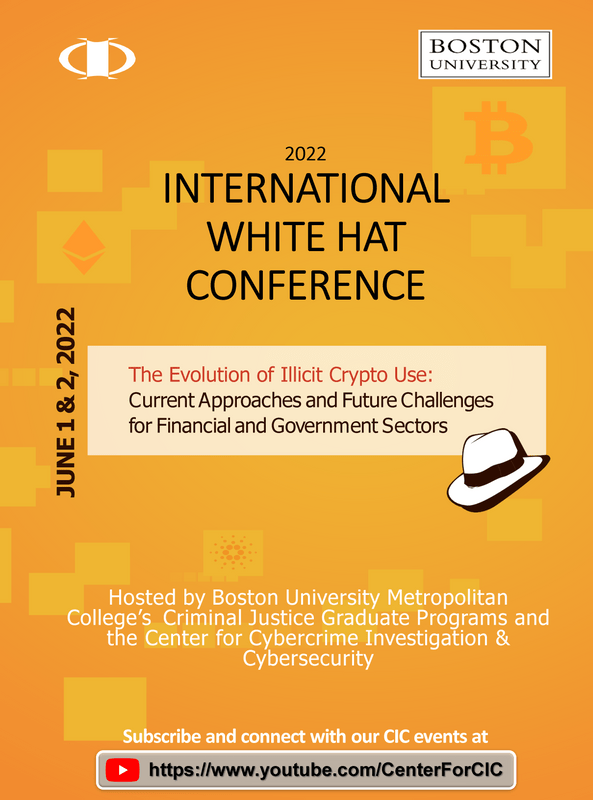 finalized
Información del Evento
Categoria: Ciberseguridad
Organizador: Center for CIC Boston University
Tarifa de evento: 0 CIC powers [ CPs ]
Tipo Evento: Público
White Hat Conference
The Third Annual White Hat Conference is an effort to bring disruptive change to cybercrime investigation, exploring innovative techniques and global measures to bring about effective criminal justice policies and establish preventive measures—leading to more efficient investigations and successful prosecutions.
Focusing on the "Evolution of Illicit Crypto Use," the 2022 White Hat Conference will serve to enhance current capacities of higher education to better serve students of cybersecurity, computer forensics, and digital evidence, leading to improved cybercrime investigations and successful prosecutions. Over the two days of morning and afternoon sessions, subject matter experts will share their expertise on emerging technologies, laws, and policies—while highlighting the challenges faced by law enforcement. Furthermore, the conference will host a job fair to assist students with internship opportunities within the areas of computer forensics and digital evidence. This will help establish a corroborative approach that can further promote the development and implementation of internship/co-op programs.
Hosted by Boston University's Metropolitan College (MET) Criminal Justice Graduate Programs in collaboration with Utica College and the Center for Cybercrime Investigation & Cybersecurity, the 2022 White Hat Conference is made possible by a grant from the Department of Justice's (DOJ) Bureau of Justice Assistance (BJA).
We look forward to collaborating with you on innovative solutions to cybercrime issues.
Dr. Kyung-shick Choi
Director, Center for Cybercrime Investigation & Cybersecurity
Professor of the Practice and Director, Cybercrime & Cybersecurity Program
Boston University Metropolitan College
Note: As an attendee, you can get 30 CPs in total at the conference. On the first day, you will get a maximum of 15 CPs, 10 CPs coming for registering the attendance code, and 5 more by answering a survey about the event at the end of the day. It will be the same for the 2nd day. Additionally, to get your certification you should exchange only 25 CPs. At the end of the event, you can have a positive balance of 5 CPs.